Original 'BE YOURSELF, BETTER' Supersoft Hoodie by CK Goldiing
£

35.00 Sold Out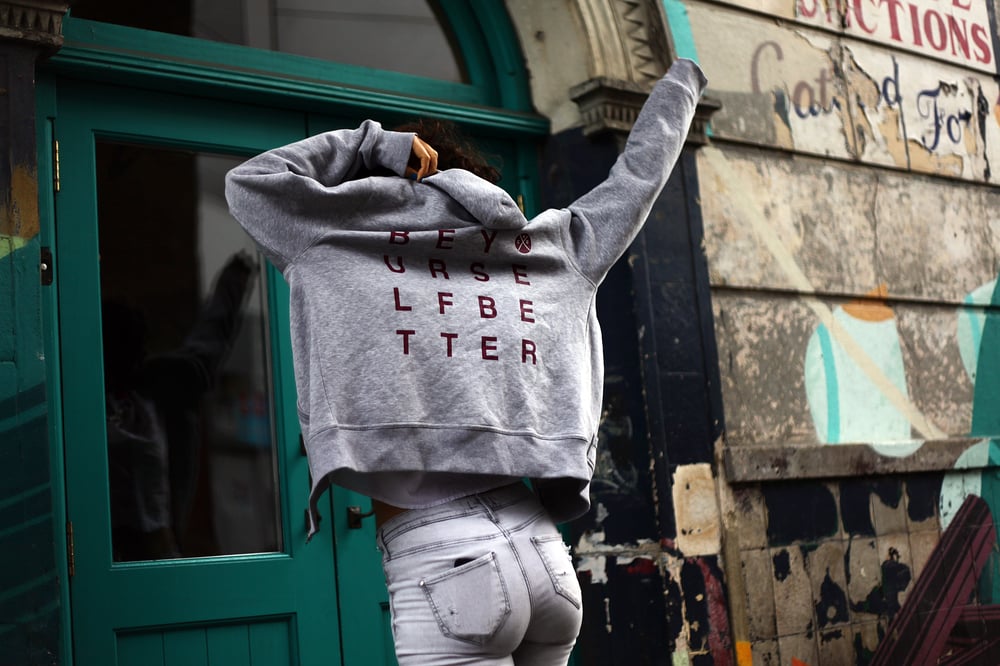 HOODIE FEATURES:
- Soft blend: 80% Combed Cotton and 20% Polyester
- Men's cut hoodie that kickass women love too!
- Rich fleece brushed inside for super soft feel
- Heather grey shell/burgundy detailing
- Full-length zip & large hood detail
- Unique zero-drawstring design
HOODIE ORIGIN:
Unapologetically different people are the best people, right? I adore them - they inspire me, motivate me and remind me to embrace my quirks.
Celebrating uniqueness, my debut hoodie features my 'BE YOURSELF, BETTER' motto in rich burgundy lettering on the rear - serving as a permanent reminder that the best version of you is the authentic version of you.
Completing the design, on the front-left chest, is the original hand-drawn sketch - sent to my graphic designer to illustrate how I wanted the rear lettering arranged.
Watch Grace Smelt tell the remarkable story of how being the best version of herself led to her becoming a World Karate Champion:
SIZE GUIDE:
This hoodie is a generous leisure fit.
Jules (brunette) wears a medium. Jules is 5.7' & size 12.
Grace (blonde) wears a medium. Grace is 5.7" & size 10.
If you are smaller than 5.7" size 10, I recommend ordering a small.
MEASUREMENTS:
SMALL – half chest: 53cm, body length: 65.5cm, sleeve length: 62.5 cm
MEDIUM – half chest: 56.5cm, body length 67.5 cm, sleeve length: 63.5 cm
LARGE – half chest: 60cm, body length 69.5 cm, sleeve length: 64.5 cm
X-LARGE – half chest: 63.5cm, body length 71.5 cm, sleeve length: 65.5 cm
XX-LARGE – half chest: 67cm, body length 73.5 cm, sleeve length: 66.5 cm
Share